Holographic Shrink Sleeves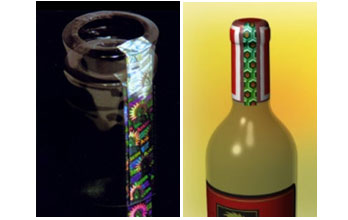 Shrink sleeves have become the leading packaging application and are being used majorly in many industries like beverages, food, dairy, paint, cosmetics, detergents etc. Our custom printed shrink sleeves are known for their aesthetic appeal and functional adjustability. On applying heat, these sleeves reduce in size and conform tightly to the shape of the container or product, creating a sleek label and product package. Having brilliant artwork and designs on them, these sleeves are perfect for marketing and brand promotion.
Our shrink sleeves comes with a holographic strip that immediately gives the sign of tampering which makes it a reliable solution against counterfeiting. These are tamper-evident shrink sleeves that are visually appealing product packaging with an essential feature that ensures the safety of products and consumers.
Variants:
Body and Neck
Sleeves with Printing
Body and Neck
Sleeves with Holography
Body and Neck Sleeves
with Printing & Holography